Wholesale Christmas Décor For Holiday Events
It's the most wonderful time of the year, and as Santa, snow, and holiday tunes roll into our lives again, it's also the season for Christmas decorations and festive events. If you're planning a holiday party, wintry wedding reception, or extravagant display for your storefront or venue, you need the merriest and most magnificent holiday décor.
The perfect decorations and ornaments always enliven the mood around the holidays. Jamali Garden's collection of Christmas and winter seasonal decor will create classic, woodland, and even snowy, white Christmas themes. Our ornaments, ribbons, and garlands are available in classic and contemporary Christmas colors from red, green, and gold to champagne and platinum. Use glittered holiday picks and garlands to arrange the most lustrous winter floral arrangements. Decorative winter wildlife like red cardinals, reindeers, polar bears, foxes, and owls will look great in tabletop or window displays.
Whatever your vision, Jamali Garden has the variety and styles to enhance your aesthetic this holiday season. Here are some of our highlights. And if you're looking to host a smaller, cozier holiday gathering this year, jump down to our guide on how to host an intimate holiday party below!
Gorgeous Garlands</h2
Complement your Christmas trees and unique décor with the classic addition of our winter garlands. Whether you crave a colorful, festive arrangement, a subdued, rustic atmosphere, or a white, wintry venue, we carry Christmas garlands in all colors and styles to create your vision. Try out our balsam fir pine garland, for example, that brings an abundance of evergreen beauty to your client's holiday event.
Lustrous Christmas Lights
Illuminate the magic of the season by adding our array of twinkling Christmas lights to your display. With warm white LED lights, playful bulbs, and traditional string lights, we offer options that glow in various colors and styles. You can even seamlessly incorporate lights into your other décor, like we do in our pine wreath with warm white lights. Create a display that warms hearts for the holidays.
Merry Mercury Glass & Ornaments
For extravagant glamour, we recommend our mercury glass products. Our ornaments, candelabras, and trinkets in shimmering silver, copper, and gold will give a bold, radiant touch to your venue, adding all the class and festivity of the season. Try our mercury glass ball ornament garland for your trees, hearths, windows, and banisters. The tasteful variety of glittering globes in all shapes and sizes offset the simplicity of the jute rope they're strung onto to create an eye-catching arrangement.
Buy Your Holiday Décor in Bulk Online
Need to buy Christmas décor in bulk? Save by choosing our Christmas lights and decoration wholesale options. With products that match your vision, prices that fit your budget, and quantities that suit your venue, Jamali Garden is the industry's favorite supplier of bulk holiday decorations, Christmas décor and supplies.

Intimate Holiday Party Ideas
The holidays are a time for gathering with the ones you love, so this year, why not get together with the special people in your life at an intimate holiday party? You can plan an extravagant, yet small, gathering for almost any occasion when you have a short guest list. A smaller party will also help your guests feel safer during the coronavirus pandemic. You'll still be able to get together to celebrate the holidays, but without large crowds. For these reasons and more, it's important to know how to host an intimate holiday party that goes smoothly and makes your gathering the talk of your friends and family.
We've gathered tips for hosting an intimate holiday party to make planning that much easier. You'll also find entertainment ideas, decoration inspiration, and other advice to make your event complete. Explore the guide below and discover how to host a small holiday party that'll let guests feel special.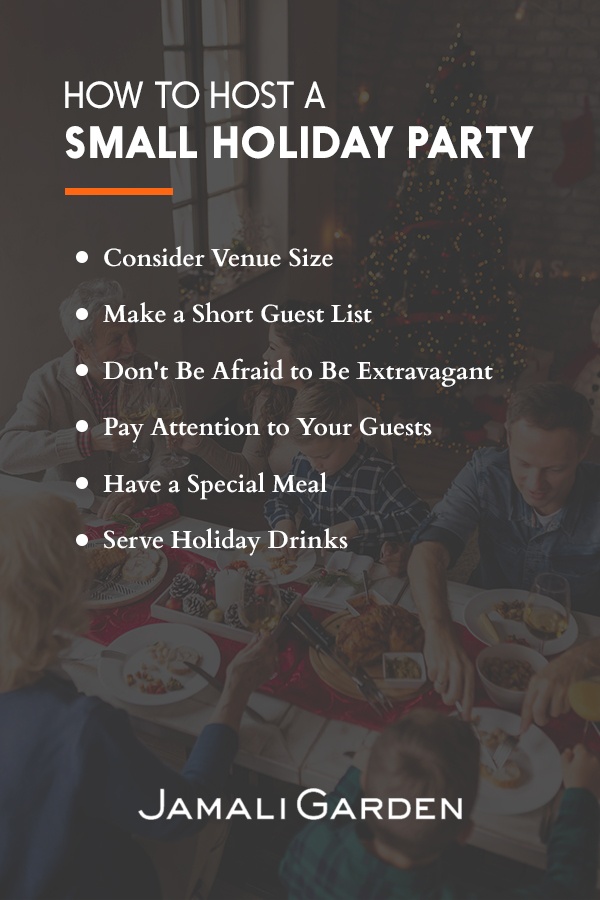 How to Host a Small Holiday Party
Once you have plenty of small holiday party ideas bouncing around in your mind, you'll want to start planning right away. Whether you're a veteran party planner or it's your first time, it's always helpful to know how to host a small holiday party. You want the event to be flawless to give your guests the best possible experience. Start with these tips for hosting a small holiday party.
1. Consider Venue Size
While a grand event hall would certainly make your guests feel special, the magnitude won't match your event. You don't want too much room for your guests, that will make it feel as if half of the people you invited couldn't attend. Instead, pick a smaller venue or have the party at your house. The smaller event space will give the get-together an even cozier feel. An at-home party will make the event feel fun and relaxed, while a venue will create a unique vibe. Pick whichever style would suit your gathering.
In light of COVID-19, it may be challenging to book an event space. In that case, plan to have a small get-together at your house if you have the room. If you decide to reserve a venue, ensure you understand their rules for the maximum number of guests, mask requirements, and any other regulations.
2. Make a Short Guest List
When you're planning an intimate holiday party, you need to keep the guest list short. How many people you invite to a small party will depend on the size of your venue. As you create the guest list, keep your social circles in mind, too. Would co-workers, friends, and family mingle well? Or, should your party be strictly family members or friends who already know each other?
Also, remember holidays are a busy time for many. You may not receive as many RSVPs as you would during another time of year. Compensate for that by sending out invitations early. You could get more positive feedback as guests adjust their plans to be with you. If they can't come, you still have plenty of time to invite others to your party.
Your friends and family may have canceled plans due to COVID-19. While that frees their schedule to attend your party, they may not feel comfortable attending an event, even if it has a smaller guest list. Be understanding, but assure potential guests that the get-together is on the small side.
3. Don't Be Afraid to Be Extravagant
Small holiday party ideas mean you have fewer friends and family members to cater to. You'll need fewer seating and table arrangements, less food, fewer drinks, and less space. That saves a lot of your budget, so why not redirect it and be flashy? Splurge on decorations and fill your home or venue with holiday flair. You could give every guest a gift, as well. Make your company feel appreciated with a small, yet stunning, gathering.
4. Pay Attention to Your Guests
Intimate holiday parties give you the chance to mingle with guests. As the host, you're already responsible for making sure everyone has an excellent time. Offer drinks and snacks, but be sure to chat with people as well. Ensure your company feels welcomed and wanted by making intentional time to talk to everyone. Introduce friends and family to keep the conversation flowing if you have to leave the room.
Save yourself time during the party by prepping as much food as possible beforehand. You could also order catering, takeout, or delivery to free up all your time during the get-together. If you want to cook, have a co-host or enlist help from guests. You can still be a considerate host and get prep work done quickly with assistance.
5. Have a Special Meal
Holidays are a time for gathering, and we tend to bond over shared meals. What you serve will depend on the holiday and your guests' preferences. Baked ham is classic for Christmas, latkes are traditional for Hanukkah, and turkey goes hand in hand with Thanksgiving, but you can start new traditions too! Whatever you serve, make it grand. Have one or two main selections and serve appetizers, sides, and desserts, as well.
Remember your guests' allergies or dietary concerns as you create a menu. Send the menu with invitations if you're that well-prepared. Give guests options by having several appetizers, mains, and side dishes. Or, take a bit of the planning pressure off yourself and host a potluck. When guests bring dishes to share, it guarantees there's something they'll want to eat at your party.
6. Serve Holiday Drinks
You're planning a holiday party, and guests will expect drinks. Whether they're alcoholic or not, many beverages are iconic for the holidays. Have a few options pre-prepared for your guests to choose from. If you don't have too much company, you can stock your bar with staples and make drinks for each guest individually. Whichever way you decide to serve your beverages, consider having holiday-time drinks like:
- Mulled wine
- Hot apple cider
- Eggnog
- Hot buttered rum
- Cranberry mimosas
Entertainment Ideas for a Small Holiday Party
Every get-together needs entertainment, and an intimate gathering is no exception. While lively conversation will occupy a lot of your evening, you want to offer guests something to do. It'll fill your get-together with laughs and memories, all thanks to a bit of extra planning. Consider these entertainment ideas for a small holiday party.
- Gift exchange: Because your party is smaller, your guests likely know each other. In that case, a gift exchange will be easy and fun. Organize a secret Santa in advance to give everyone enough time to shop. If your company doesn't know each other too well, have a white elephant gift exchange. Every guest brings a wrapped gift anyone would appreciate. One guest picks a present and unwraps it. The next guest may either steal the gift or open a new one. Go around until everyone has opened the presents and every guest has a gift.
- Wrapping session: If your party is close to the holidays, your guests might be busy wrapping presents for family and friends. Multitask by incorporating a wrapping session into your holiday party. Instruct guests to bring wrapping paper, bows, gift tags, and various supplies to share.
- Music and dancing: Play holiday music or throwback favorites for classic party entertainment. Clear space for dancing or pick a venue with a small dance floor. If you don't have that much room at your venue or home, you can always skip the dancing. Relax instead while enjoying good music and better company.
Decorating Ideas for a Small Holiday Party
As you gather small holiday party decoration ideas, stick to a theme. Incorporate a set color scheme in every area of your home or venue. Use similar shapes, flowers, and greenery throughout your decor to keep it consistent. Having a theme will give you a more specific idea of what you need when decorating for a small holiday party.
You may already have a theme in mind, or you might want a bit of decor inspiration before you decide on a color and floral scheme. No matter where you are in the planning process, decorating will be a fun part of hosting a get-together. A bit of inspiration will help you get all the decor you'll need. Use small holiday party decoration ideas for different areas of your home or venue.

1. The Tables
You'll have at least one table in your home or venue for guests to gather around for meals. You may also have a snack, gift, or drink table. Transform all these surfaces into decorated tablescapes that show off your get-together's theme. Pay attention to every little detail in your centerpieces and table decor and incorporate these ideas.
Combine all these decorative items into one tablescape for a breathtaking display. Consider selecting everything in the same color scheme, like silver or gold, for a chic, monochrome look. Use all white with glass, beaded, and glittery accents for a wintertime feel. Or, if you're looking for a more whimsical touch, play with holiday-themed colors. Red and green are iconic, but blue and white, pine green and cranberry, or sage green and cranberry red would be stunning options as well.
2. The Tree
If you're wondering, "How do I host a small Christmas party?" don't forget to ask yourself, "How should I decorate the tree?" A Christmas tree is an essential part of this holiday, and you probably have one up in your home already. If you're planning an intimate holiday party at a venue, bring a smaller tree to decorate. An artificial tree will transport easier and leave less of a mess.
For a unique twist on decorations, put a favor for each of your guests on the tree. These can be small gift boxes or bags wrapped and labeled with each guest's name. Include sweets, snacks, or candies as a thank-you to them for coming. Hide them throughout the tree and have guests search for them as part of the party fun. If you want to get guests involved in another way, have them help you decorate the tree. Decorate the tree a bit, then get ornaments for guests to put up. Heart-shaped ornaments, for instance, will be a sentimental addition to your tree.
Use smaller tabletop trees if you don't want a full-size tree, artificial or real. A mosaic glass tabletop tree gives a more abstract look, while still evoking the winter holiday sentiment. If you want the antique look of mercury glass throughout your event, use mercury glass Christmas trees. These decorations are subtle enough for any winter holiday get-together, and make for a chic Christmas celebration.

3. Doorways and Archways
Make every entrance extravagant at your home or venue. Decorate doorways and archways to tie in with other decor and create a holiday wonderland. Adding decorations to entryways will show your attention to detail and ensure your guests feel the holiday spirit. You'll elevate the occasion from a casual get-together to an all-out party, just by implementing some simple decorative additions. What you hang across doorways and archways will depend on the style of your celebration and your decor, but you could use:
With garland strung across every entryway, your home or venue will be transformed. Enhance the look and add decorative additions with ornaments or floral or greenery picks tucked throughout the garland. Place these extras at the corners of doorway garland or the top of archway decor. You'll have unique small holiday party decorations that suit your theme perfectly with a few small additions.
4. The Ceiling
Get creative with ceiling decor for your holiday party that draws your guests' attention to every little detail. Add to an existing chandelier or hang garland and ornaments from above. Make an impressive floating centerpiece to accent a gift or serving table. Wherever you hang a floating arrangement, you'll end up with something unique. String garland from the corners of a room and incorporate other hanging elements throughout, or hang vertical decor from the ceiling near a wall. Whether you're looking to make a photo wall backdrop or simply wanting to add texture and decor throughout a room, you could use:
Take extra time with these decorative elements, as they're are sure to be an eye-catching addition to your decorations. You want them to look perfect and complement the other aspects of your small holiday party decor.
Bring Your Intimate Holiday Party Ideas to Life With Jamali Garden
At Jamali Garden, we want to help elevate every party or gathering. Whether it's an intimate gathering or a full-fledged celebration, decor ties it all together. Our mission is to inspire our customers and offer them unique products that will make them and their guests feel special. Event planners and party hosts alike have explored our well-curated selection of decor inspired by every part of the world. They've found the perfect items for their events, and we want you to have the same experience when you shop with us.
We would feel honored to be part of your intimate holiday gathering, and help to transform your home or venue into the perfectly decorated space. Shop our assortment of holiday decor or find the perfect silk flowers and other decor accents for your event. Decorate your small holiday party with help from Jamali Garden for products that inspire great events!