Unique, elegant Christmas centerpieces elevate your event tables from ho-hum to jaw-droppingly beautiful. With our unique centerpiece ideas for Christmas parties, you're on your way to beautiful tables. From ideas for artificial Christmas centerpieces to using pine cones in Christmas centerpieces, the possibilities are just as inventive as they are varied.
Deciding on the Details of Christmas Centerpieces
There's seemingly no end to the options for Christmas centerpieces, so it's important to pin down some details before you dive into your design. As an event planner, knowing what your client wants and figuring out how to create that within their budget while also making something great takes some work. Consider the following factors that will influence your Christmas event centerpieces.
1. Number of Tables at the Event
Along with the budget, you need to know how many centerpieces you need. Start by calculating the total number of guest tables where you will place the decorations. The shape of the table can also impact the number of centerpieces you need:
For round or square tables, one centerpiece is enough.

For long rectangular tables, you may need two or three centerpieces spread along the table.
Once you have your total centerpieces, you can divide your budget by that number to determine the budget per centerpiece.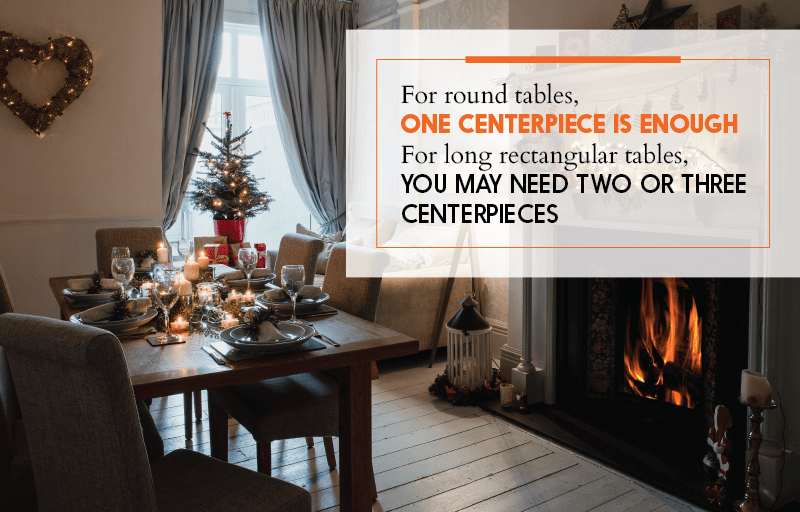 2. Does Your Client Want Uniform or Varied Centerpieces?
Centerpieces are often identical on all tables, but you can also mix it up with designs that have some common elements:
Have one large centerpiece and two smaller centerpieces on each rectangular table.

Use two colors for the main component of the centerpiece, so they alternate on each table.

Feature something distinct for the head table at a wedding than you have for the guest tables.
3. Determine the Right Centerpiece Height
The height of the centerpiece affects the appearance. In general, low centerpieces are ideal on guest tables because they allow people to see one another and hold a conversation easily. Tall, skinny centerpieces can add height while keeping sight lines relatively open.
4. Stick to a Consistent Style for Centerpieces
What do you want from your centerpieces? Should they be romantic or playful? Are you aiming for traditional, vintage, or modern décor for your client? Pinning down a style can help you tackle the design and picking components of the centerpieces.
5. Pick Colors to Complement the Event
Color is a component related to style. The colors of the elements often form a particular style or feeling. Bright colors tend to be playful or modern, for example. Think about the color scheme for the event. Decide on centerpiece colors from that palette, or select colors that complement the main design elements in your decorating plans.
Christmas Floral Centerpieces
Spruce up tables with floral centerpieces full of wintery flowers to fit your Christmas event. Your choice in containers, fillers, and embellishments also links your floral centerpieces to winter.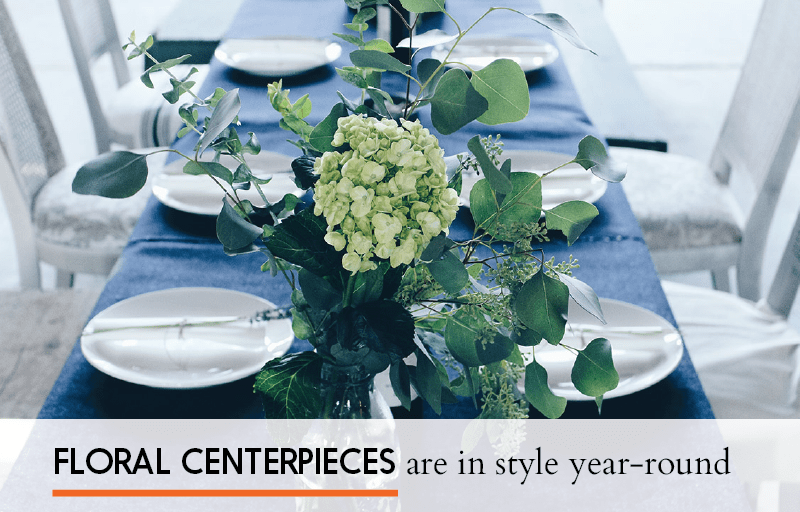 If you want a short floral arrangement, start with a 4-inch vase to keep the height to a minimum. For a tall arrangement, opt for a tall, slender container like the 28-inch silver trumpet vase. This profile keeps the blooms high, so guests can see clearly across the table while seated.
Next, you need to decide if you want a filler in the base for clear containers. Go natural by letting the stems show. For a decorative twist, add a filler like red berries, ornaments, twigs, or pine sprigs. Keep in mind, if you use real flowers with water in the container, your filler should be a material that holds up with prolonged exposure to water.
Materials for Floral Centerpieces at Christmas Parties
The flowers set the wintery tone for the arrangements. Using white blooms is a natural choice for your floral arrangements. Other flowers that work well include poinsettias and white amaryllis.
Tuck in contrasting elements to give the floral centerpieces visual interest. Some possibilities include:
Wreath Holiday Centerpieces
Wreaths are excellent additions on walls and doors, but they also work well on tables as part of your centerpieces with your favorite wreath design lying flat in the center of the table. Decorative elements added to the wreath dress it up. Tuck items into the middle of the wreath for additional decoration. Ideas include Christmas ornaments, candles of varying heights, pine cones, and short flowers.
Choose the style of wreath based on your party décor theme. Opt for a pine wreath to stay classic. A snowy pine cone wreath gives the arrangement a rustic touch. For a modern or playful approach, base your centerpieces around a Christmas ornament wreath or a silver mirror wreath.
Candle Holiday Centerpieces
Candlelight casts a romantic glow around a room, ideal for your Christmas decoration scheme. A single, large candle holder like the chandelier ornament crystal candelabra is a visually alluring focal point for each centerpiece. The crystal chandelier hurricane candelabra has a similar look with hurricane shades to protect the candle flames.
Another route is arranging several smaller candle holders or votives on each table. For uniformity, place several of the same candle holders in a balanced arrangement with greenery or flowers between the candle holders. For a little variety, position a larger version of the candle holder in the center with smaller holders around the perimeter.
If you like the idea of mixing it up, grab several candle holders in many sizes, shapes, and heights. Keep a common design element through all the holders, such as all mercury glass candle holders or all simple, angular designs. Arrange the candle holders in varied patterns, so varying heights are near one another. You can also add other design elements in with the candle holders for more variety.
Real candles offer the most realistic flickering for your centerpieces. Purchase 10-hour votives in clear glass for long-lasting flames that keep burning throughout your event. You can set out the candles as they come, or you can tuck the glass containers inside larger candle holders. Flickering LED tea light candles are a suitable alternative if you want to avoid real flames.
Decorating Around Centerpieces
Many centerpiece designs start with a main piece, such as a lantern or collection of candleholders. Adding other elements around the base of the main centerpiece component balances things out. It adds fun detailing, and the centerpieces become even more elegant.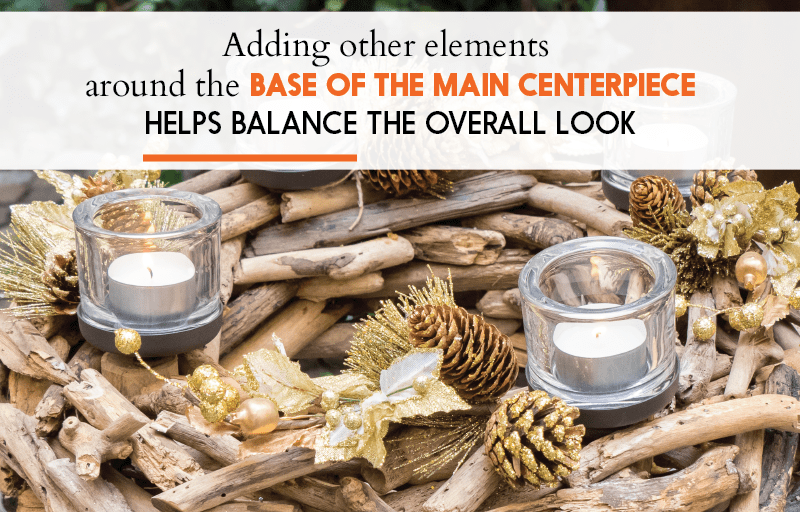 Consider these embellishments for your main centerpiece components:
Table Runner: Roll out an elegant table runner as the foundation for your centerpiece. Choose a color and design that complements the centerpiece itself.
Faux Snow: A pile of faux snow builds a wintery scene around your centerpieces. Exercise caution when pairing faux snow with candles or other open flames. You don't want your snow to go up in smoke.
Pine Boughs: Work in a natural element with pine boughs lying flat on the table underneath the centerpiece. This contrasts against light tablecloths.
Tray or Mirror: Employ a tray or mirror as the base of the centerpiece. Arrange the centerpiece components on top of the tray.
Log Slice: Like a tray, this enhances the winter woods feel. Place a large, thin piece of a log on the table like a tray. Top it with candles, jars, or other elements to finish your centerpiece.
Tips for Making Inexpensive Christmas Centerpieces for Events
The cost of centerpieces grows quickly, especially when you're throwing a large event on a limited budget. A little imagination can keep the centerpiece expense under control without sacrificing the beauty of the finished product. Cut centerpiece costs with these tips.
1. Try Lots of Holiday Centerpieces
Instead of having all huge and dramatic centerpieces, do a few of the larger design and a scaled-down version for other tables. Use the larger, more elaborate centerpieces on prominent tables, with the smaller arrangements on the other guest tables.
2. Choose One Standout Component
Sometimes less is more. Instead of buying lots of large, sparkling components for the centerpieces, pick one key piece. You might pick an ornate vase or a glittery spray to be the center. That element stands out to turn the centerpiece upscale, even though the remaining pieces are less expensive or more subtle.
3. Buy Wholesale Materials
Save money by purchasing as many of the centerpiece components as possible on a wholesale basis. Buying deep tea lights in bulk at wholesale pricing keeps your candle-based centerpieces affordable, for example.
4. Compare Floral Prices
You can often save money by choosing one bloom over another. Compare the prices of the flowers to find ones that appear similar but cost much less. Get a few expensive ones as the center, with less-expensive ones surrounding them to fill out the arrangement. Or consider purchasing silk flowers rather than real to save even more, and to have the ability to re-purpose them for your next event.
Put together table displays using wholesale supplies and a mix of sparkling and natural elements to anchor your guest tables in beauty.
---
---