Luminous string lights offer the perfect way to decorate your client's holiday event. You can string up lights in traditional ways by putting them on trees or hanging them around the perimeter of the room, but we like to shake things up with creative ways to use Christmas lights at a holiday party. Try some of these ideas to brighten your client's Christmas event.
Light-Filled Containers
Add light and a decorative element by tucking a strand of lights inside a clear glass container. Warm white naked wire LED lights come on a thin, silver wire that isn't as noticeable as the traditional thick green wires. If you prefer a colorful, jolly vibe, utilize the multicolored naked wire LED lights.
Containers are versatile. Decorative lanterns work well for this purpose. Filling the lantern with the strands of lights offers a creative way to illuminate it instead of traditional candles. You can also tuck other Christmas items inside, such as:
Pieces of pine boughs

Pine cones

Christmas ornaments

Candy canes
Add dimension to your display by using three different-sized containers. For example, our burnished silver square lanterns come in three sizes. Arranging the three lanterns together creates an aesthetically pleasing display.
Light Curtains
Employ light curtains to decorate and illuminate your winter space. This light decorating idea hangs strings of lights vertically to mimic curtains. You can adjust the spacing of the strands to get the result you want. Placing them close together can leave a big impression.
Light curtains work well in a spot where people won't walk through them. You may hang the strands of lights on a wall for a background. Have this behind the head table at a wedding or in another prominent area where you want to draw attention.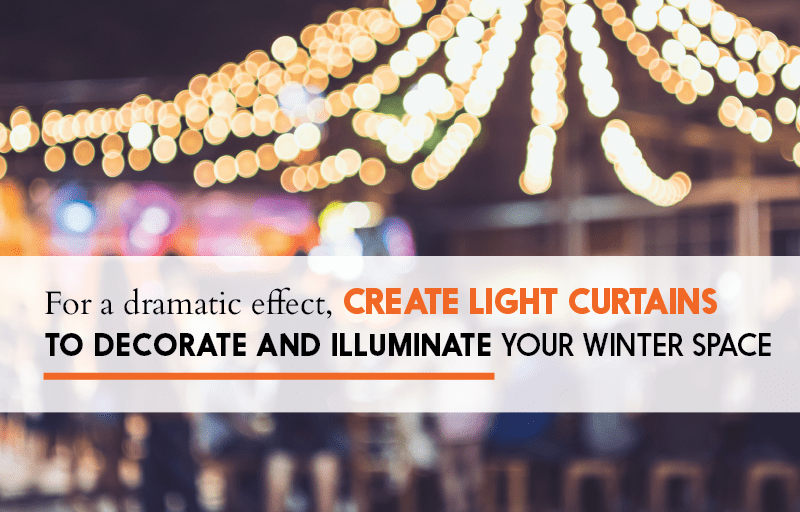 Suspending the curtain of lights from a high ceiling also offers a dramatic impact. You want the bottoms of the strands high enough that people won't hit them when they walk through the area. This draws attention upward.
Faux Indoor Tent
Winter holiday events may keep you indoors, but that doesn't mean you have to skip the romance of a tent. You can recreate the tent effect indoors by using strands of lights. All the strands of lights join in the ceiling in the middle of the room or the area where you want the tent. The strands spread outward in all directions, draping down somewhat before swooping back upward slightly. You can also produce two or three swooping areas as the light strands slant downward.
Decorative elements help cover the center where the strands meet. Ideas that work well include:
Large floral pieces

An arrangement of ornaments attached to pine boughs.
You can also combine fabric with the lights to amplify the tent idea. Drape sheer fabric from the center point of the space, spreading out in all directions. Lights on top of the fabric create illumination that shines through without the light strands showing.
Wall Trees
Use string lights to create faux Christmas trees on the venue walls. This decorating idea provides the perfect way to incorporate the Christmas tree theme without setting up actual trees and taking up floor space. Attach strands of lights to the wall in the shape of a Christmas tree. For a simple version, outline a large triangle for the outside of the tree, with additional strands running vertically or horizontally inside the tree. Add ornaments to the wall trees if desired.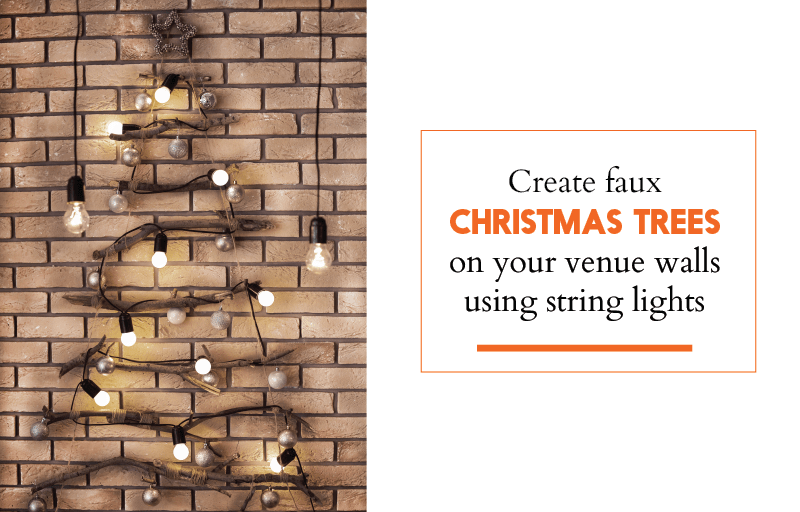 You can also experiment with a variation on this wall tree idea, using a branch Christmas wall tree as the base for the decoration. Wrap strands of light around the branch sections on the tree. Add ornaments to finish the tree decoration.
Whimsical Chandeliers
If your venue doesn't have interesting lighting, strand lights work well for creating illuminated designs. String light chandeliers can take on fresh shapes and styles to fit your Christmas event. Best of all, inexpensive and readily available string lights are the source of illumination.
1. Christmasy Hula Hoop Chandelier
A durable hula hoop or similar sturdy circle creates the base of this chandelier. Clear lights wrapped around the hula hoop create the illumination. Decorative touches like holly leaves with holly berries cover the hula hoop and add to the Christmas feel.
Attaching ball Christmas tree ornaments to the hula hoop also adds a festive feel. You can let decorations dangle. For example, you might hang icicle lights or attach Christmas ornaments to holiday-colored ribbon and dangle them from the hoop. Suspend the decorated hula hoop above the space.
2. Holiday Ball Chandelier
Rounded lights that start with a ball-shaped object as the base give the lighting an on-trend three-dimensional look. Strands of lights attached to the ball add a warm glow. Other holiday embellishments, such as snowflake ornaments, finish the design. Hang a single ball chandelier or several of the balls for clusters of the custom chandeliers.
3. Branch Christmas Chandelier
For a natural twist on your event lighting, have branches as the basis for the decoration with strand lights wrapped around them. You can also decorate the branches with garland, red snowflake ornaments, and other decorations.
Get Creative With a Lighted Garland
Pine garlands are simply a staple in Christmas décor. They are classic, elegant, and versatile. Spruce up an ordinary garland by surrounding it with string lights for a warm glow.
Start with a naturally beautiful garland like the silver glitter pine and pine cone garland. The glittery accents sparkle even more with the addition of clear string lights. The preserved boxwood garland is another option. The lighted garland works well in a variety of places in your event venue, including:
Stair railings

Table edges

Window frames

Door frames

Hallways

Draped on walls behind tables
Tips on Decorating for a Christmas Party With String Lights
String lights are easy to integrate into your Christmas party design plans. With our string light ideas for Christmas parties and the following tips, you can nail holiday lights at your client's event every time.
1. Buy Enough Lights
When you're going for dazzling, more is more. Investing in lots of lights for the event décor impacts the appearance of the room. Buying Christmas lights for event planners in bulk stretches your budget.
2. Know the Electrical Outlet Situation
Unless you have battery-powered string lights, you'll need plenty of electrical outlets in the areas where you plan to hang lights. Using extension cords lets you maximize the number of strands of lights you use in the space. Connect several to the extension cord for a clean presentation with fewer individual wires running to the outlets.
3. Connect Strings With Caution
Strands of lights typically come with a maximum number of strings you can safely connect. Always follow those suggestions to avoid any electrical issues.
4. Choose the Right Lights
Strands of lights come in many styles and colors, so think about how you want the display to look. Traditional lights with green wires blend in well with a green Christmas tree. You might want something more discrete for other applications so the light wires seem to disappear and you get the twinkle without distracting wires.
5. Mix Your Lighting
Amplify the sparkling of strand lights by trying out different types. You might have a light tent with lighted ball chandeliers in the center and lanterns on the tables. When you combine sources of light, the layering will provide more illumination.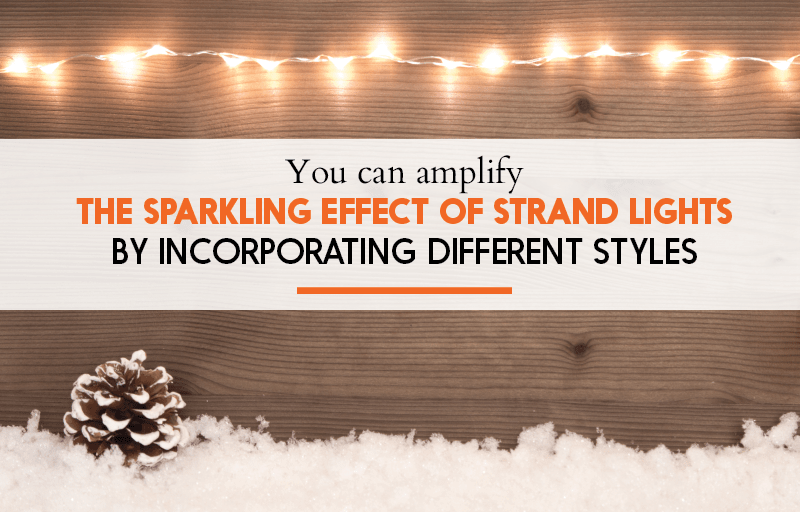 6. Use Lighting to Separate Spaces
Your strand light decorations visually separate the spaces in the venue without creating physical barriers to divide the areas. For example, a light tent over the dance floor feels magical and marks the space.
String lights are easy to implement, gorgeous on display, and relatively inexpensive. Stock up on wholesale string lights, and reuse them at all other clients' upcoming Christmas events. They work just as well at events year-round when you desire a romantic glow or splash of light. The investment in quality string lights gives you a great return on investment once you see the bright results at your clients' holiday events.
---
---